Last Thursday, December 12, poet NIKKY FINNEY and artist JONATHAN GREEN were featured at a reading of poems from
Seeking: Poetry and Prose Inspired by the Art of Jonathan Green,
an anthology edited by Kwame Dawes and Marjory Wentworth. Nine other poets also read poems from the book. The event was held at the Charleston Library Society, and all proceeds were donated to the Library Society. Sponsoring the event were The Poetry Society of SC, LILA (Lowcountry Initiative for the Literary Arts), and the Charleston Library Society.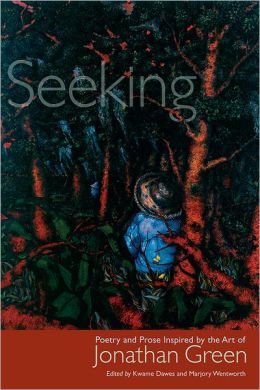 Besides Nikky Finney, the poets reading included SC Poet Laureate Marjory Wentworth, emcee for the evening, who read a poem by Dawes. The audience also enjoyed hearing from Jonathan Green about how he and Nikky Finney connected a number of years ago, eventually leading to this project. Also reading their poems were these poets:
Susan Laughter Meyers
Dennis Ward Stiles
Linda Annas Ferguson
Bryan Penberthy
Barbara G. S. Hagerty
Mary Hutchins Harris
Ellen E. Hyatt
Marcus Amaker
The
Seeking
anthology, published by the University of South Carolina Press, contains both poetry and prose inspired by Jonathan Green's oil painting
Seeking,
commissioned by Mepkin Abbey and exhibited there. The painting depicts Green's childhood spiritual journey that followed the Gullah tradition of going into the woods as a child to seek one's faith and spiritual understanding.